All the tl;dr that you can stand
A little about me...
I grew up on a farm in eastern Ohio. I didn't lift weights until I got to college (our high school didn't get a weight training program or even a real weight room until about a year after I graduated). My strength training amounted to throwing hay bales around (some of which were twice my size) from about the age of 5 on, along with other farm chores. Still and all I was often stronger than my opponents.
I didn't start wrestling until I was a freshman in high school. I was still able to go to state a few times, then wrestle in college and become a Collegiate All-American, placing 3rd in the nationals my senior year....then wrestle numerous Olympic regionals, placing in a bunch of them (including 2nd in the Iowa Regional while up a weight class).
I also won the AAU Senior Nationals around that time and was awarded the MVP award for the tournament - an award I was chosen for over an Olympian, who was also in the running.
I also coached college for 15 years. I have been fortunate enough to spend nearly my entire adult life helping young people have more success in wrestling and in life.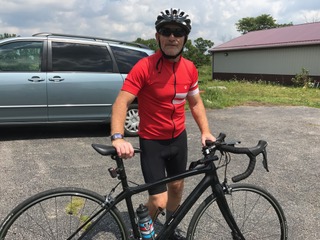 My Grizzly pic (yes there's a story to it)
This pic was taken a short time after my daughter and I rode in Pelotonia, which funds cancer research.
Everyone has been affected by cancer.  My dad passed away from it about a year prior to us doing the ride, and we dedicated the ride to him.
I went all Grizzly Adams for the month (or two) to raise awareness (and raise funds for Pelotonia).
I ride as regularly as I can, more in the months other than winter because, well, we are in Ohio.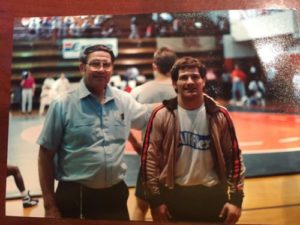 My dad and I in Iowa
My dad accompanied me to the Iowa Olympic Regional in 1992.
He also drummed up some sponsors (including the company he was working for, you see by the shirt I'm wearing), to make the trip possible.
At the beginning of the tournament I felt like a huge disappointment.  I had tried to get down to the 125.5 lb weight class but had failed (For more about this life-threatening experience, go here).  My dad had spent all this time traveling with me and I felt I had let him down.
As a result I wrestled up at 136.5 - a huge jump for an Olympic Regional.
Way underweight, I competed and ended up having my strongest showing in a regional - 2nd place.  I lost 9-6 in the finals after beating a guy 3-0 who was on the Olympic Ladder (top 8 ranked).  Winning would have secured my spot in the Mini-Tournament in Philadelphia.
Although I fell short, I was proud of my accomplishments and it was a memorable trip for both of us.
The (not-so) Secret to my success
You know what they say about success and hard work…
I believe I owed my work ethic in part to my upbringing on the farm, a place where the animals are fed before the kids are.  I am also a lifelong teetotaler, something I probably get from my dad.  I've never smoked a cigarette or ever done any illicit drugs, undoubtedly in part due to our family structure, values, and threat of discipline (thanks Mom and Dad).  
I also never believed I was talented enough to be successful doing those things – the margin was just too thin.  Looking back at my wrestling accomplishments and how challenging it was to reach them, I'd say I was right.  I also was very socially awkward (still am according to a lot of people), so going out with the guys was something I never got into.  Ah, the advantages to social awkwardness – while others were out partying, I had more time to work out!
My first year in college, I was one of 6 118lbers on the roster (yes, there was, at one time, a 118lb weight class in college.  There was also a 98 lb weight class in high school, which I also wrestled in).  Yet I digress – there were 6 of us and I was #6 on the depth chart.  Smallest weight class and at the bottom of the barrel.  I wasn't winning many battles in the room that year!  
My first big influence in college was the starting 118lber, Randy Fee, who was a senior.  I quickly earned a role as his partner (on account of my work ethic and being a good partner).  I helped him by pushing him that year, but he helped me tremendously, teaching me my first good single leg takedown and a slew of other things.  Randy became the school's first All-American that year.  I was red-shirted that year so I retained 4 years of eligibility.  The next year, I had improved rapidly enough to surpass my competitors, win my wrestle-offs and secure my starting position, which I never relinquished in my 4 years.
I had a competitive nature that I couldn't help.  If we were running 4 miles, I didn't just want to finish first – I had to.  No matter how hard the others were pushing, I had no choice – in my mind – but to finish first in that run – a process I repeated for every single run for those 4 years that I competed.
I quickly refined my attacking style of wrestling.  I hated wrestling kids who backed up and stalled.  When I became a collegiate all-American, I finished 3rd, ripping through all but one of my matches using a system that has come to be known as the Inside Series – a major piece of my Attack System.
So I was developing and refining my system throughout college, and had a lot of success with it.  When I went into coaching, I continually, over the course of decades, refined the system to work for athletes who didn't necessarily have the same physical attributes as me.  In other words:  developing a powerful system with the power to work on athletes more talented than oneself.  Techniques that work on athletes stronger than yourself, or quicker than yourself, or more flexible, etc.
One of the big advantages of me creating a system was this:  I was NOT always the most talented, strongest, fastest, most experienced kid in the room.  Because of that, I was able to develop a system that works for everyone (exceptional athletes who coach, often struggle with this.  They didn't have to refine their moves or their coaching style, because they always had a physical advantage.  They also struggle to relate to less talented athletes for the same reason.)
My Coaching background
After spending 6 years as an assistant, I was head coach at Capital University from June 1993 until the program was eliminated following the 2001 season. The program (and the school) received national recognition by garnering two All-Americans in 1999, placing my school in the Top 20 in the nation. The team was also ranked in the top 20 for much of the 2000 season. This recognition for a sports team at Capital was rare for this highly competitive academic institution, a school with little or no emphasis on athletic success.  Only one other program on Capital's campus had finished in the Top 20 in the nation in the previous 15 years. I was proud of the team's achievements while there at my alma mater, but the school didn't share my commitment to winning. Since the program was dropped in 2001, I have had the opportunity to realize my life's work:  help young athletes become more successful on and off the mat.
My writing background
If you've gotten this far, you've probably figured out that I like writing.  I write emails to my dedicated list just about every day.  
Before that…
I wrote two cartoon books in the 90's:  "Ty Hits the Mat" (my first), and "Late to Class:  A Ty Dye Collection."  The Ty Dye comic strip even appeared in a handful of college papers for a while.
 I also wrote a regular wrestling column, "Wrestlers Corner", that appeared in a few newspapers (Wapakoneta and Wooster). I have also written articles for several outlets, including Intermat and The Wrestling Mall, and covered some events for them, such as the Ohio High School State Tournament, and the Big Ten tournament..  In addition, I appeared on Takedown Radio with Scott Casber numerous times, and was, in his words, their 'resident technique expert' for a while in 2005.  I have also covered the State Tournament on behalf of this website, with articles, videos, pictures and results.
More recently, I am the creator, owner and curator of the new satirical wrestling site, Wrestlers Corner.
Our new training center, located in beautiful Pataskala, Ohio, opened in the summer of 2014. It is a terrific, standalone facility with everything an athlete needs – great wrestling room equipped with ropes, pull-up bars and peg boards (as well as a brand new 2014 Attack system mat), and locker room fully equipped with showers…all on 20 acres of country land.
My primary goals and personal Philosophy that I live by
I have trained athletes of all ability levels for over 25 years...state champions (too numerous to count), athletes who have gone on to All-American at every collegiate level of wrestling...and also everyone in between.
My primary goal is to personally reach each and every athlete and helping him (and occasionally her) to maximize their potential, while learning key lessons they can benefit from their entire lives.
Helping athletes learn to train like a champion, and think like a champion, with a champion's work ethic, is a key component.
In order to do so, I seek to be a positive role model and hold myself to a high personal standard of conduct - living by example.
How Attack System Training has become the anti-lots-of-things in the wrestling world.
When you take a quick look around, you will see how starkly different my wrestling philosophies and training philosophies are from the rest of the wrestling world.
Your first clue..
there are no pictures on my walls.
Someone told me once this was a bad idea, that I should show off all the champions who have come through my doors.  But I've always found the pictures to be off-putting.  It also sends a message loud and clear:  "the kids who are important to me are the ones I can show off by putting on my walls."
In reality, every athlete who enters my room matters to me.  Whether he's a first-year wrestler who can barely put one foot in front of the other yet, or a highly accomplished wrestler gunning for a state title.
Every Kid Matters.
I take great pride in helping athletes maximize their potential – wherever that takes them.
Many of the athletes whose accomplishments I'm proudest of, would have never gotten any attention in other trainers' rooms because they weren't stars.  Instead, they came here, got my personal attention (as every athlete does), and they maximized their potential finding success that far surpassed what they or their parents ever thought possible.
The Show and Tell "Yew Tewbe" approach that is destroying wrestling
Yes I have a Yew Tewbe Channel.  No I don't run it like anyone else's.  Why?
Because Yew Tewbers have two goals in mind:  "Likes" and "Views".  
Neither of those things interest me in the least.  I strictly use my channel to record short videos that wrestlers can benefit from.  In a nutshell, if you're main objective is Likes and Views, its not "what helps kids become better wrestlers."  
I've seen the worst, most positionally flawed leg counters, shot counters, and you name it – all on the Almighty Tewbe.  Therefore most of my videos are hidden – and for most of them I only make them available, as needed, for wrestlers in my building (other than the introductory videos people get access to when they join my list).
If you want to learn how to wrestle, Yew Tewbe is not the place to do it.  Remember what the main objectives are.
Just as harmful are the show and tell camps and clinics that show cool looking moves without training you to execute them at even a Phase 2 level.  Knowing what the main objectives are – whether it be a video online, or a training – tells you exactly what the value of the training is.
The irrefutable advantage of system training 
Learning to win at anything in life involves a systematic approach that includes seeing, learning, training, and internalizing the most important techniques.   It does not involve seeing 4 or 5 different ways of hitting the same move.  Many people jump from room to room looking for that magic move. But the magic move doesn't exist.  
Just as your best math teacher would never consider teaching you 3 different ways to solve an algebra problem (or bringing in a "world famous" teacher to teach a completely different method of doing the same thing),  it is futile to try and learn all the different styles out there.  
The human mind is not wired to learn in this haphazard, scattershot manner.  
Stick with one system and you will improve much more rapidly, reaching Phase Five much more quickly.   For more on the keys to human learning, read all about Phase Five here.
Another way to put it – If its worth learning, its worth training to internalize to a Phase Five level.
Attack System Philosophy
Put them on defense immediately – and Keep them there.
Attack System Philosophy on handfighting:  Anytime opponents put their hands on you, they give you a scoring opportunity.
Three fundamental elements to the Attack System:
1. Position yourself so you can't be attacked
2. Shut down your opponent's offense from every position
3. Break your opponent so you can score
Finally and in conclusion
The reason I require those training with me to get on the email list (and why I recommend you do so even if you're not sure)…
Its important to understand how I think, and understand as much about me as possible before making your decision. After getting regular messages from me (and I send emails often, so batten down yee olde hatches), you will quickly knowwhether Attack System Training is a good fit for you.  If so, you will be informed about opportunities that are age/experience appropriate. If not, hey – no biggie. Not everyone's a fit for my building, and that's okay too.
Email is also my chief means of communication.  I can usually be reached by email (I check it often) and return my messages regularly.  
Other methods, not so reliable.  For instance, I rarely answer my phone (a complaint I get often from my brother), so if a phone conversation is necessary, a time can be scheduled (usually have to be on the list first though, see above). Even my brother has to beg to get on my schedule.
I pack a lot in my day and am constantly busy – my time is at a premium.
The phone thing also has to do with one of my keys to success, that being my lack of social skills growing up  (some say it still carries over to this day, you be the judge).
So – send me an email.