Attack System Training for the Youth Wrestler
Attack System Training for the Youth Wrestler: Your athlete's path to success
Your young athlete can begin his journey to long-term success by getting an introduction to our explosive and highly successful Attack System. Here, he will learn technique designed to set him on the course to long-term success, as opposed to the "magic moves" syndrome taught so often.
Magic Moves will work for a while on less experienced wrestlers, but as they grow older, those athletes will start to counter them. The biggest drawback to youth wrestlers learning these magic moves is this: While they are having short-term success with them, they are NOT learning fundamental wrestling technique that will set them on a course for long-term success. For some athletes and parents, by the time they figure this out, its too late.
Of equal importance is the emphasis on the long-term process. "Its a marathon, not a sprint", as we often say here. Young athletes in particular have to be enjoying the process or they are very likely to fall victim to burnout. Burnout levels in wrestling are extremely high, as it is a very demanding sport. We design our programs, and counsel parents and coaches, specifically to greatly reduce the risks of burnout.
I want your young athlete to learn to love the sport so he still wants to wrestle a decade from now. My parents guide to youth wrestling was specifically designed to address this issue, as well as a host of other issues. To receive this guide absolutely
free, or read more about it, Click Here.
Youth Training Opportunities
Fall Training
Winter Training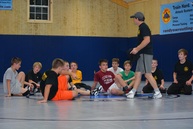 Small Group Training:
This is our In-Season training program. In addition to high school and junior high groups, we have Youth group for 3rd-6th graders
Limit:  15 athletes in this group. Training is once per week, and most athletes commit for the season This program runs in January and February.
Go to the Small Group Training Page for more details
Spring Training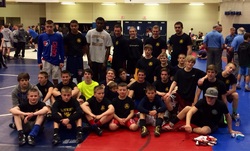 Club Simpson (Freestyle/Greco)
Athletes commit to training with me extensively in the spring, and can wrestle in numerous Freestyle/Greco tournaments during this time. Both styles offer huge benefits to athletes looking to get on the podium. in the winter. My experience in freestyle is vast. See my "About the Coach" page for details.
Go to the Club Simpson Page for more details
Summer Training
We now offer 3 youth training camps: Two for athletes in grades 3-6, and one for athletes in grades 1-3. This, along with our *size restrictions on youth camps has allowed us to give each young athlete the attention needed for the best camp experience.
*We only accept around 10-12 athletes in 1st-3rd grade, and around 15 athletes in 4th-6th grade.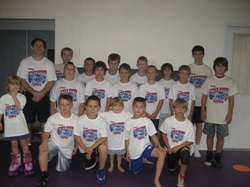 This is where many of our Future Champs have started!