Now OPEN!
Train during the season as many as 10 times per month! (details below)
You can Jump levels quickly – with the right approach to training.
There are a small handful of critical skills in wrestling that are responsible for 90% of all wins in wrestling.
We re-enforce critical skills that win big matches – every week.
Small Group Training at the Attack Barn
Personalized, in-season training so you can Wrestle your Best when it counts the Most!
Gain critical skills to rapidly surpass your rivals!
Wrestling training opportunities are all around.  But you can only get the systematized training utilizing our proven Phase 5 approach

here

.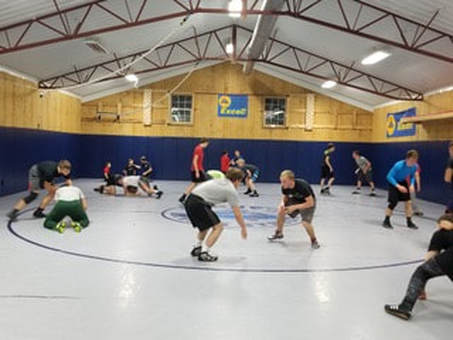 High School/Junior High: Sundays
Youth (2nd-6th grade):  Mondays
**BONUS Workouts:  Now you can train here up to 10 sessions a month!
The personal touch you can't get anywhere else
You have full-season access to my knowledge and advice
stuck in a position? See me for solutions
Access to my

Breaking down your Barriers to Success

mental edge system
Special training videos only available to small group athletes
weight management consultation available
Struggle with lack of confidence? See me.
I'm here for you!
Details
Small Group Training is our in-season training program that starts late November, and runs through the months of December, January and February.
Note:  Registration for 2023-24 is now open!
**Limited space available
All season, long, you can speed drill to master the following high percentage techniques:
Attack your opponent relentlessly on your feet by putting him on defense immediately

High level handfighting – every time he puts his hands on you, he gives you a scoring opportunity

Score multiple ways from one set position using our dynamic attacking system

Train to win using the highest percentage moves from multiple position!

Train to use the most effective, dynamic Front Headlock system that scores tons of points fast.

Score from go behind (avoiding the 3 key mistakes the majority of the wrestling world makes)

Shut down your  opponent's Front Headlock immediately
Score from top position using our dynamic systems
STOP the opponent's top turns instantly using our countering system
Commitment levels
Gold level commitment (now open)
All-Season (December-February) Pass 
Silver level commitment (not currently available)
Two-Month Pass.  Not currently available
Bronze level commitment (now open)
Monthly Pass.  December-only option is now open
One-time Tryout 
One session, no further obligation (keep an eye on your inbox – I will announce when its opened up)  
***Bonus Advanced Training sessions worth as much as $237 (3 per season)
Outsiders pay $79 each for these special sessions – you can get all 3 for FREE!
Only Small Group athletes are invited to the Small Group Advanced Series for free, where special training events highlight specific, high level technique.  Events such as:
 

January 28, 2020's Get in the Zone:  Your Peak Performance Road Map

 

February 18 2019's Medal Blast

 

Late January 2019's Peak Performance Master Training (w/special guest Dave Fogle)

January 15 2019's Finishing School 
December 18 2018's

BLAS

TER 
January 2018's Critical 3 for Peak Performance
December 2017's Power System

 

Late January 2018's 

Leg Countering special

 

January 2018's Pinner's Paradise

 

January 2017's 

Counter Attacks

 

February 2017's  Pinning Combinations

Handfighting Extravaganza

.
These training events, when offered to the public (not all of them are – some are just for small group athletes)  cost $79 each.   For you, the committed small group athlete…  FREE.
Here's who can join us at Small Group Training
The following athletes are eligible to participate in Small Group Training
Junior High athletes

High School athletes
Youth Wrestlers 
Training Dates and Times
Core Training Days and times
Junior High/High School:  Sundays:  6:30 – 8:00 pm***

Youth (grades 2-6):  Mondays:  7:00 – 8:30 pm
Bonus Days:  Select Tuesdays and Wednesdays+
+Minimum of 10 Total Workouts/Month
**Special Super Bowl Sunday time:  11 am Sunday February 11
Bonus Workouts:
These voluntary workouts are held on most Tuesdays and Wednesdays and are available for all groups
Bonus Tuesdays: You can get an extra workout and Learn one of my slick Trap Moves as well
Bonus Wednesdays: Come in for a short, hour-long workout!
**You are always notified about Bonus days via emails
2023-24 Small Group Training Core Workout Schedule
Junior High and High School:
Dec: Nov 26, Dec 3, 10, 17
January: 7, 14, 21 ,28
February: 4, 11, 18, 25 , March 4
Youth:
Dec: Nov 27, Dec 4, 11,  18
January: 8, 15, 22 ,29
February: 5, 12, 19, 26 , March 5
**Bonus Tuesday and Live Blast Wednesdays will be announced via emails
10 Total Workouts offered per month!
Note: We Do Not Pro-rate for missed sessions, or sessions postponed due to weather or cases of emergency… however, bonus sessions are offered each month and we will make every effort to add extra sessions if needed.
*2023-24 Fees
(Cost for Gold Level (All-Season – Dec-Feb, 30 powerful workouts) Commitment: only $680  
3 Payment options:
10 week plan ($68 per week)
Pay it off now (One $680 payment)
Cost for Silver Level (Two Month, 20 powerful workouts) Commitment only $490 
2 Payment options:
8 week plan ($61.25 per week)
Pay it off now (one $490 payment)
Cost for Bronze Level (One Month) Commitment:  $290 
Cost for Try-it-Out one-time sessions (when open): $79 
Cost for Advanced Training sessions: $79**
A note about Try-out and Advanced training sessions:  your cost is always more for a one-time session.  Those who commit to more training save a significant amount over one-time sessions.  Our most dedicated athletes pay less than $25 per session.
Register Here for Small Group Training