Important note:   
 

Go here FIRST (If you are not on the email list yet)
All signup forms are sent directly to athletes on the email list (no forms are on this page).  You must be signed up in advance to participate.
Small Group Training at the Attack Barn:  2020-21 Version
Wrestling training opportunities are all around.  But you can only get the systematized training utilizing the scientifically proven Phase 5 approach

here

.
Details
Small Group Training is our in-season training program that starts late November or early December, and runs through the months of December, January and February (some groups go into early March as well).
Athletes are paired in small groups with the goal being to provide you with your optimum training opportunity.
Note:  Submit your registration as early as possible to secure your position with your ideal group**
**Limited space available, apply early
Commitment levels**
Registration for Small Group Training has closed for the 2020-21 season.
Two-Month Pass
Registration for 2020-21 Small Group Training has closed.
Season Pass (most comprehensive training at the best rate)
Registration for 2020-21 Small Group Training has closed.
Two Month Pass
Registration for 2020-21 Small Group Training has closed.
One Month Pass
Registration for 2020-21 Small Group Training has closed.
Tryout (from time to time, as space permits, we accept athletes on a try-out basis.  Train for a night, see if you are a fit for this program (no further commitment).
**We do NOT accept drop-ins.  You must be signed up in advance.
Registration for 2020-21 Small Group Training has closed.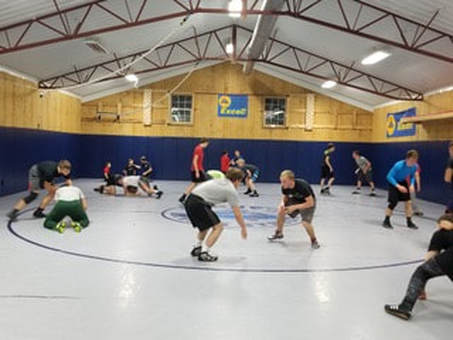 Pre-pandemic pic of wrestlers training here
High School/Junior High groups:  Sundays
Youth group: (grades 3-6): Tuesdays**
BONUS Workouts:  This year, Bonus workouts might or might not happen.  We will keep you informed though.
Extra #1 
***Advanced Training series (to return for the 2021-22 season)
In the past, outsiders have paid up to $49 each for admission to these exclusive, high level trainings (committed Small Group athletes get in for FREE.)
Here are some of the events we have hosted in the past:
Get in the Zone:  Your Peak Performance Road Map (January 28, 2020)
Medal Blast (February 18 2019)
Finishing School  (January 15 2019)
BLASTER (December 18 2018)
Critical 3 for Peak Performance (late Jan 2018)
Power System (December 2017)
Leg Countering special (January 2018)  Pinner's Paradise (January 16 2018), Counter Attacks (January 2017)
Pinning Combinations (February 2017)
 Handfighting Extravaganza.
Extra #2
Bonus Workouts (to return for the 2021-22 season)
These voluntary workouts are held on most Tuesdays and Wednesdays and are available for all groups
Bonus "trap move" Tuesdays: You can get an extra workout and Learn one of my slick Trap Moves as well
Live Blast Wednesdays: Come in for a short, hour-long workout with lots of live!
**Members are always notified about Bonus days via emails
2020-21 Small Group Training Core Workout Schedule:
Junior High and High School:
Dec: Dec 6, 13, 20 (27th added)
January: 3, 10, 17, 23, 30
February: 7, 14, 21, 28
Youth (subject to change)
Dec: Dec 8, 15, 22 (29th added)
January:  5, 12, 19, 26, Feb 2
February: 9, 16, 23, March 2
Note: We Do Not Pro-rate for missed sessions, or sessions postponed due to weather or cases of emergency… however, bonus sessions are hopefully in the offing each month and we will make every effort to add extra sessions if needed.  If we have to cancel sessions due to Covid, we will of course reschedule them. 
Here's who can join us at Small Group Training
The following athletes are eligible to participate in Small Group Training
Junior High athletes

High School athletes
Youth (grades 3-6**) (we sometimes accept mature 2nd graders – email me first)


Training Dates and Times
Core Training Days and times
Junior High/High School (2 groups):  Sundays:  4:30 Arrival and 7:00 pm Arrival (actual training time = 1 1/2 hours)

Youth:  Tuesdays:  7:00 pm Arrival time
*2021-22 Fees (TBA)
Note:  We offered a Price Reduction for the 2020-21 season,  due to us not being able to guarantee bonus trainings and other benefits
2020-21 Fees were:
One Month Commitment
January (5 sessions):  $110 (= $22 per session)
February (4 sessions):  $88 (= $22 per session)
February 3 week option:  $66 (=$22 per session)
Two month commitment:
January+February Commitment (9 sessions): $171 (=$19 per session)
**Save $15 when you sign up for the list (you can do that here)
A note about Try-out and Advanced training sessions:  your cost is always more for a one-time session.  Those who commit to more training save a significant amount over one-time sessions.  
Small Group Training 2020-21 Covid Prevention Health Protocols
The following agenda applies to ALL athletes and parents in the program – be ready to follow each step when you arrive.
Email Check-in:  Prior to the session each day, submit an email check-in to report the following:
If any of the following are a YES, please report that to via email and stay home that day.  Otherwise, report a "no".
Known Exposure to anyone Covid-19 positive within the past 14 days
Fever
Exhibiting symptoms of covid-19, including dry cough, sneezing, shortness of breath, fever, etc.
Other illnesses, etc.
report to me if your athlete has developed a rash anywhere on the body.   if so, I will be checking that rash prior to the session.
Arrive at by the Arrival Time or up to 15 minutes early and remain in cars until I wave you in
 Parents/guardians will remain outside the building – I will wave to you and can talk to you at a distance.
All athletes entering the building will be provided, and use, hand sanitizer immediately upon entering.
All athletes entering the building will get a temperature check.  Any with fevers will be sent home (athletes should be checked ahead of time at home to save yourself time.
All athletes will then undergo a thorough skin check while stripped to a suitable undergarment (yes, that means have underwear on).
All Athletes will then take a shower prior to the start of the session at our facility.  You must bring your own towel.
All athletes must change into clean workout clothes they did Not wear into the building.  Make sure you have packed extra socks, underwear, shorts, shirt, and towel.  All Clothing must be unworn prior to your shower.   I will be making sure you brought a separate set of workout clothes.
After the training session:  all athletes Will shower prior to leaving the building. 
Note:  saying you will "shower when I get home" is not acceptable.  These practices assure that you will rid yourself of bacteria, germs, etc., from your body and clothing, prior to leaving the building, and helps prevent the spread of germs, bacteria and disease, to you and your loved ones as well. 
You must then change into clothes NOT worn during the session (you may change back into the clothes you wore when you arrived).
**Covid prevention health protocols will be relaxed in my other training programs as the pandemic ends.  These will remain in place for Small Group Training this season, however (2020-21).
How Do I Sign Up?
All invitations are sent by email.