This is the start of your journey…. 
Now's your chance to Grab your five free videos and discover our Attack System ways.
This IS the Way….
A loyal client recently shared this:  Many of the kids on our team have tried a variety of advanced training options…but they're really not getting anywhere with their wrestling.  I recommend you because there is consistency to training in your system."
Not only is this the Way of my Attack System Wrestling training…
It is also The Way to snag more success quickly.
Follow on down this page to learn all about my Attack System Ways.
Step

 One to discover our Attack System methods:  Snag your 5 free online videos that demonstrate:
an explosive game-changing series on bottom – score (at least) 5 different ways with this series

the collegiate method for beating the head tie that gives you an immediate scoring opportunity
how to score quickly from front headlock – and the #1 mistake made that costs wrestlers takedowns
how to immediately force your opponent to play defense – as soon as the whistle blows
Win the Attack System Way
Put them on defense

Immediately

…and keep them there!
That's how we wrestle and that's how we win. If you like this approach, check out our Big 3 plan for winning:
Put the opponent on defense immediately…and keep him there!
Attack 5 different ways using a powerful and devastating set-up system
Relentlessly attack the opponent from every position…including short offense
Coaches – learn how to strengthen your program…get more numbers…and help your wrestlers reach their goals…more efficiently than ever before!
Welcome to Attack System Wrestling!
Attack System Wrestling and Training
Our system trains how to win using our exciting, unrelenting style of wrestling… no matter who the opponent is or where they've been trained. We put constant pressure on our opponents, creating breaks in their position, and quickly attacking off those breaks.
Our training methods are the true secret to our system. Attack System Wrestling becomes second nature to athletes who train here, due to these finely crafted methods. Here, you don't just learn moves, you learn how to win at wrestling.
Attack System Philosophy: Every time your opponent makes contact with you, he gives you a scoring opportunity.
There are three fundamental elements to the Attack System:
1. Position yourself so you can't be attacked
2. Pressure your opponent and break his position
3. Attack and Score
Top Position:
With our powerful scoring system, you can master the two most critical skills in riding – pressure and control – and score using the most effective methods for turning top level athletes.
1. Shut down the opponent's first move immediately…no matter what it is.
2. Score from the base, the ground or standing using our easy turns system
Down Position:
1. You can down any opponent's attacks immediately;
2. Use our explosive Escape system to score multiple ways
3. Counter the top attacks in wrestling using our second-to-none Countering series.  Never fear the cradle, collegiate spiral or leg riders again!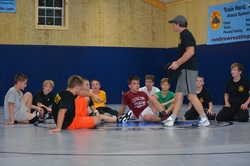 Small Group Training:
This is our In-Season training program. Athletes usually are divided into groups by age/level: Youth is separate from HS for instance.
We take around 15 athletes per group.
Training is up to 10 sessions per month (a core session per week plus bonus sessions a few more times a week, most weeks).
Our most dedicated athletes make the Gold Level commitment (full season) and gain the benefits by dedicating themselves to the system.
We also offer Silver Level (one month commitment) and Double Silver Level (two month commitment) as space provides.
Gold Level athletes get highest priority (and save tremendously on a session by session basis).
Small Group Training runs in December, January, and February (sometimes into March as well).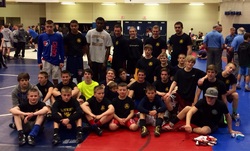 Club Simpson and Club Simpson Elite (Freestyle/Greco)
Club Simpson Elite is the KING of Freestyle/Greco in the Central Ohio area.
Opportunities are available for athletes who are ready to commit to training at the highest level, and competing against many of the top wrestlers in the nation (Elite Level) as well as athletes getting an introduction to the Olympic Styles of wrestling (Club Simpson level), and Youth wrestlers.
Both Olympic styles offer huge benefits to athletes looking to get on the podium in the winter.
Unlike many clubs, athletes in Club Simpson gain the benefit of:
training in both the greco and freestyle disciplines
the personal attention that is essential in gaining knowledge and skills quickly
Our unique and powerful system of training which assures that you will gain skill quickly, and immediately improve your hips and positioning awareness.
My experience in freestyle is vast. See my About the Coach page for details.
Apply early. Our number of openings is strictly limited to assure you more personal attention and better training than elsewhere.
Summer Camps:
Our camps are an excellent way to learn the System. At all of my camps, you will be trained by me and get to know me personally.
Fall Club (Attack Club East)
Attack Club East is Central Ohio's longest running wrestling club, dating back over 30 years!
This 10 week training program is in the fall. We start in September and usually conclude the Sunday before Thanksgiving. This club provides an excellent introduction to Attack System Wrestling, and also serves as a refresher course for those who have trained here before.
Many of our wrestlers have started here, and then move into our more advanced programs.
Fall Fusion Camps:
Fuse your mind and body for quicker learning. An excellent way for you to be ready to leap into the upcoming season.
We offer Fall Camps for high school/junior high as well as youth.
Coaches' Corner:
Specifically designed for coaches. Get Technique info as well as training tips and methods, including mental training for your athletes.