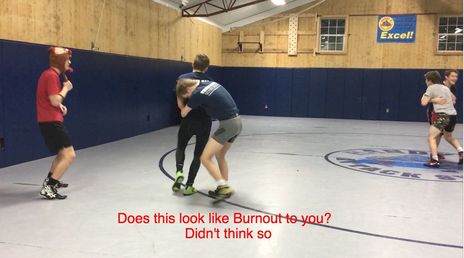 Tis the most wonderful time of the year for wrestlers.
Sectionals, Districts, and State coming up…everything you've worked for.
This is what every wrestler (should be) looking forward to.
Yet every season at this precise time, I hear the dreaded word kicked about:
BURNOUT.
Coaches can help in many ways:
doing some crazy things

shorter practices and lots of situations

transition training
especially transition training.
The true secret why we see no burnout from our dedicated athletes?
Because it is way too much fun to do THIS….
transition like a beast
Example:  last night at Small Group SWEATbox (the third workout this week for some of our most dedicated), we transitioned from specific setups to specific shots, first and second level finishes, followed by specific turns.
Or in attack system-ese:
Clear the arm to sweep single, opponent stops you, snake and run it to finish, to elbow tilt, to bottom guy standup cut through double.
That's all one transition.
Having the capability to precisely execute at such a high level, and with the speed and intensity of olympic style wrestling, is so much fun, you don't have time to think about being burned out!
Why most are not ready to take advantage of this amazing drilling system
In order for the above to happen, you first have to learn the elements of the system that make it come together. 
Meaning…
having a system of training where athletes learn specific skills, and train throughout the year to fine tune those skills…
so when that sequence is barked out by me…the athletes in my room have already drilled each skill to near-perfection.
We have used transition training to reinforce multiple setups to multiple shots to multiple finishes, followed by our countering system (including leg counters, spiral counters, cradle counters) and down series such as power sits and standups…as well as top series turns as varied as high level tilts to cradles to leg turns.
Now the bad news:
this is probably not going to be very effective elsewhere.
Here's why:
this style will not work in the following places:
rooms that take drop-in athletes  

rooms that promote a 'special guest' every week to show moves

rooms that just show moves and don't teach systems

rooms that don't drill core skills repeatedly so you actually learn it and can hit it 'in your sleep' instead of having to think it through and attempt to pull it outta your hat at the most crucial times
So yeah.
That eliminates a lot of folk.
Here's one folk who is benefiting, and he passed this along to me at last night's workout:
I'm ready to win this weekend at Sectionals and I am confident.  In fact, I haven't lost a match since I started training with you.
-GS
Your journey to learning a system that allows you to smoothly transition from takedown to turn, and know exactly what to do next, starts right here
Randy
PS:  I've seen a big uptick in folks jumping on board.  They see the success of the attack system athletes who are "All In" and they want to be a part of it.  Since my room has limited space, now's the time before they close out.