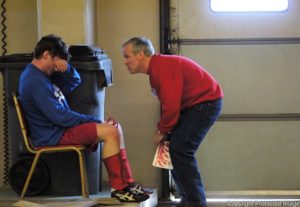 Here's what happened when we took a farm boy off the farm and threw him onto the national stage…
This farm boy in my room – we'll call him "A" to protect the guilty – started out as a raw, green kid who lacked even a sniff about how to execute a great single.  He rapidly progressed to a competitive level.  
Still unknown on the national scene, he was ready to make his mark.
He drew the #1 ranked wrestler in the nation at the Central Regionals.
This dynamic athlete with a rich resume full of high accolades and accomplishments, was mowing them down left and right….  Completely dominating A's weight class.
While I was coaching another wrestler in my club, A sidled up to me and said, "My match is coming up.  Got any advice?"
I had taken a brief look at video of the stud's match and had planned a deep analysis before we faced him.
So I responded:  Just off the top of my head, this is what I'd do – and I blueprinted our strategy.
Well, the detailed video analysis never happened.
Moments after our conversation, A was called to the mat to wrestle The Match.
As he was taking the mat, I reiterated our blueprint for the match.
Out to the center he went…
shook hands and the battle began!
"A" followed the blueprint to near perfection.  Went right after this monstrous adversary, got in his face and executed the plan!
The result was a barnburner of a match decided in the closing seconds – a match so fierce, so intense, that this stud wrestler was still shaking and sobbing a full hour after the match.
A year later, that same stud handily won the US Nationals in Fargo.
The centerpiece of our blueprint is a core skill we teach, and wrestlers internalize, every spring.
It has shifted many a lopsided match and flipped the odds in many a lesser athlete's favor through my 30+ years of training wrestlers.
A quick warning:  it isn't enough to know what the technique is.  Without the directed training to internalize it, its just another move, and it won't move your needle one inch.
In fact, unless you know exactly how to execute it, and are willing to put the effort into making it second nature, you might as well not even know the move exists.
During spring club, we never show anything just once.
We never drill anything just once.
If its important enough to show, then its important enough to learn, internalize and develop to Phase 5 (match level proficiency).
That eliminates all clinic moves.
There are none shown in spring training – or in summer camps.
I have designed my entire attack system to win from the core positions that wrestlers end up in most often – relentlessly breaking the opponents' position and attacking them constantly.
Just like A did to the future National Champ.
There is a tendency in most training programs to engage in a "show and tell" format (especially in spring because there are so many flashy moves in freestyle and greco wrestling), then, next session, move on to the next shiny object.
I refuse to run any of my trainings this way,.
If I had, A would never have been able to utilize his skills to lock down one of the nation's most dynamic wrestlers and leave him shaken and sobbing.
This IS the WAY you beat top level wrestlers.
go here to join us this spring and beyond
Randy