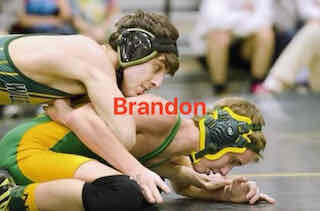 Let go of Brandon?
Big decision to be made, and you only have a very short time in which to make it.
What will you do?
The decision is one that will be made a quadruple times this wrestling season by desperate wrestlers trying to eke out a win.

Its the Down By One scenario, which often looks like this:

You're down by one in the top position in the third period.

Do you let your opponent go, or stay on top and try to turn him?

"Well, that depends", you say?

And you'd be right.  It depends on factors such as:
the time left on the clock
How good are you on your feet, as well as…
How good is your opponent on his feet?
Are you confident in turning your opponent?

If number Four elicits an "eh"….

Now's the time to change that.

This weekend's Laser Focus Camp is all about the mat.  Getting out from tough leg riders when on bottom…

and Scoring when on the top.

Notice I didn't say RIDING.

Equestrians ride horses.  Wrestlers TURN opponents.

When you master the art of turning quality opponents, it gives you the option to stay on a tough takedown artist, instead of letting him up and trying to beat him from his best position.


You can join us by going here while its still open, which won't be long now

Randy