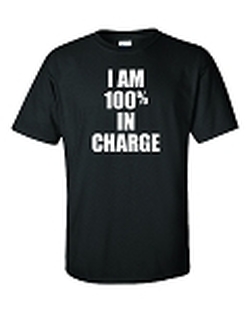 Yes, I actually have one of these shirts
One of my favorite shows is The Profit,  featuring Marcus Lemonis.
Marcus invests in struggling/failing small businesses, buys in for a percentage, and then turns them upside down, and right side up, fixing things and making himself  – as well as the owners –  a ton o' $$.
and every episode he ingrains into them his mantra: "I am 100% in charge."
He succeeds where others fail by knowing exactly what to do and how to do it…
and when he is finished, his new business partners also know exactly what to do, and exactly how to do it, the Marcus Way, to ensure long-term success.
It's all about process.
And just as business owners sometimes flounder by going in too many directions, instead of following a winning process, wrestlers flounder the very same way.
…and the evidence is all around you.
The wrestler who steps on the mat, not knowing exactly what he is going to do or exactly how to do it, will flounder more often than not.
Now for the good news.
Your days of floundering on your feet, wondering what to do next, are over.
You can learn my process for winning…and knowing exactly what to do when the whistle blows.
Step one of your solution will be revealed Friday via this brand new offering so…