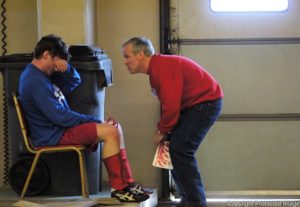 Being on the mats is better than not, right? 
And doing a clinic or camp is better than not?
Let's just say I mostlyagree.
Mostly?
Anytime you are on the mats, there is a chance of you gaining skill and making improvement.
But the flip side is, you could also be hurtingyour skill level.
I once observed a world champdemonstrating technique at a coaches clinic – and he was locking his hands incorrectlyon the single leg (repeatedly)….
all while coaches furiously scribbled down notes and recorded every second in order to show their team.  
Side note, if your opponent locks hands like this champ did, you can easily counter him in less than a half second.  (Remind me at camp this summer and I'll show you how).
That's from a world championand collegiate coach.  Imaginethe mistakes made by a college wrestler showing technique at a camp.
Amazing that many camps cede their responsibilities to their campers by "highlighting" these collegians and letting them instruct.
It reminds of the old adage about practice making perfect, which my coaching colleague correctly altered to this:
practice makes permanent. 
And imperfectpractice – for instance, executing technique incorrectly– can and will re-enforce bad habits that could be next to impossible to fix down the road, costing you matches and heartbreak at the most inopportune time.
Like the collegiate wrestler that the world champ coached, that locked his hands incorrectly, just like his coach had done – and promptly got countered and thrown to his back and pinned in the biggest match of his life.
To learn it the right way, go to the guys who are meticulous to a fault– with years and years of experience (or decades, like myself) of nailing the finer points – the ones that reallymatter when it counts the most.
On that note, the first camp of summer starts exactly one week from today.
Now's your chance to join us before its too late.
Randy
PS  If you've already signed up, be on the lookout for 'welcome to camp' emails – they will be heading your way soon.  Right now, pass this info along to your friends and teammates so they can join you.