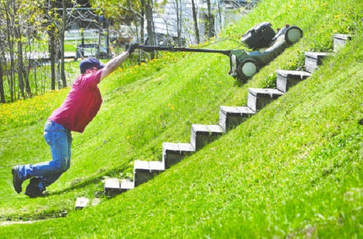 Well I did.
And the result was, shall we say...
as to be expected.
In less than half an hour, the entire lawn had been mowed….front, side, field, back…
splotches of unmoved grass in every section…
hit a rock and nearly wiped out the pool…
kid flying through the air screaming…
and one very happy teenager (and much less happy adult).
The randomness of it all reminded me how most athletes and parents approach camps and training.
Jump from gym to gym, getting little pieces of unmowed knowledge to try piecing together later on.
Many take this approach for years, not realizing that what looks like the short cut, is really the long way around.
Kinda like having to go over the entire yard again because you missed critical pieces the first time.
Instead of adapting the ADHD approach to wrestling training, you can opt to:
Discover this powerful system of wrestling – and capture it in just one week.
Randy
PS:  This week's Takedown Master Camp is almost full – if you want in, now's your chance