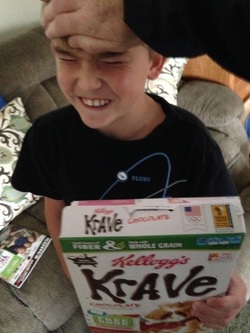 Here's how the game goes: one person lies on his back, while someone else starts tapping his forehead and tells him to name all the cereals he can in a certain amount of time.
What usually happens is, this person has trouble naming hardly any cereals. Same person who could probably rattle off a dozen of them with no problem, all of a sudden is stuck.
Why?

Because, quite, simply, things are different when there is pressure and resistance.  Or someone tapping on your head.
Just as humans struggle to perform under pressure, under duress, wrestlers go through the same thing.  Guys who look great in practice, all of a sudden freeze up in the bright lights of a match.
Sound like anyone you know?

How does one fix that? 
Well, there's one key thing you can do that will go a long way toward alleviating this problem…
Have your system down.
If you learn a system, and train hard to internalize that system so it is second nature, then you will hit it when it counts, under the lights and under pressure.
I have a lot more to say about the mental side of wrestling.  I'll post something soon, either here on the blog or to my email list.